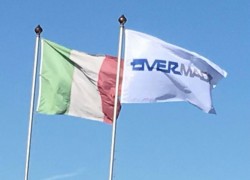 OVERMADE was founded at the end of 2015 by four ex Managers of OVER Meccanica together with a group of Italian investors to continue manufacturing machinery for the paper and tissue production in the track of OVER Meccanica, a builder of machines and plants for the paper industry worldwide recognized.
Through an operation of Management Buyout, successfully concluded on Dec. 1st 2015, OVERMADE acquired the exclusive property of all OVER Meccanica's tangible assets, covering brand, know-how, references, drawings, patents, stocks, tools and equipment as well as the right to use the original facilities based in Verona, Via E. Torricelli 25.
Wishing to continue an activity that OVER Meccanica mastered since the early 60s with hundreds of significant installations implemented around the world, OVERMADE makes the most of the wealth of knowledge and first class expertise that we have inherited and that is rooted in a past of pioneering technology.
As we keep servicing the multitude of our affectionate clients to strengthen longstanding relationships, we move forward to building new relations and seek the confidence of potential customers willing to test our reliability and skills.


Our People
Our people are our first asset, and their dedication is a value even higher than their very expertise.
Our team consists of knowledgeable people, all of them former employees of OVER Meccanica, with solid experience matured on a huge number of projects and with an attitude to strive for solutions whatever the challenge.
Strongly oriented to process streamlining and problem solving in all paper production related issues, our people constantly look to ECO and LOGIC solutions to develop and implement. The effect of this approach is twofold: while engaging to pursue the key goal of customer satisfaction they make for their own advancing and professional growth.


What We Do
We engineer, design and manufacture complete paper machines, complete tissue machine and winders. We supply also paper machine section rebuilds, machine components, original spare parts and a wide range of services.
Our Mission
We work in partnership with our customers, focused first and foremost on their needs and committed to handle them smartly by offering customized and sustainable solutions alongside constant assistance.
Mutual satisfaction is the headlight we are steadily headed for.


For more information on our background visit the section HISTORY