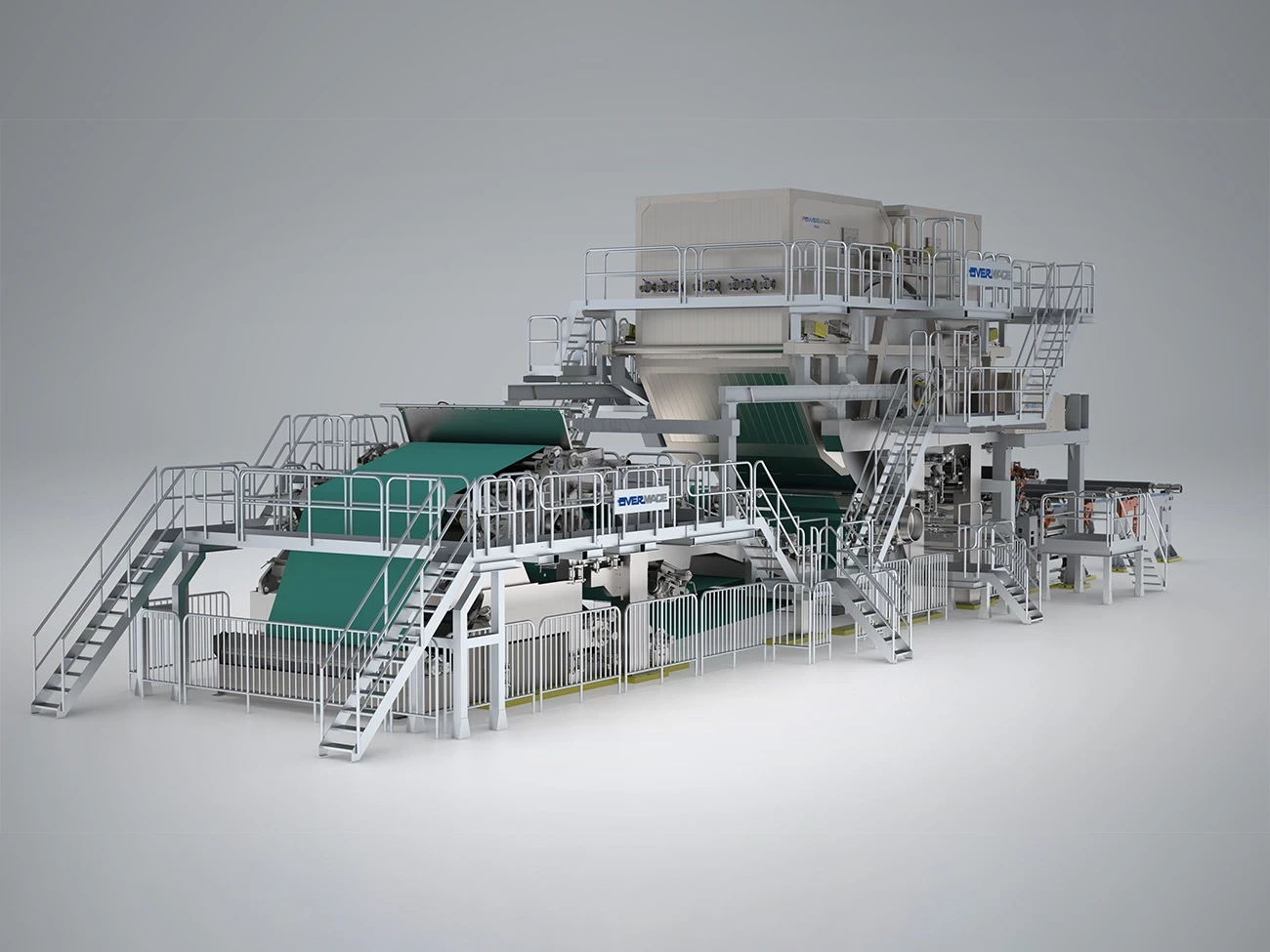 Overmade has been committed by ZAIN PAPER INDUSTRY, an important player in the Middle East, to realize the new tissue production park in DOHA QATAR. The first phase of the project encompassed the installation of two complete tissue plants for the production of high-quality facial tissue.
ZAIN PAPER INDUSTRY has commissioned the complete lines to OVERMADE on the basis of a turn-key supply: from Virgin pulper to Approach flow system, from Hydraulic Headbox to Reel, from Winding system to Wrapping line, including all auxiliaries such as Vacuum line, Steam system, High efficiency hood, Mist and Dust removal system. The DCS (Distributed Control System), the QCS (Quality Control System), the Sectional Electrical Drives and the Electrification of the entire tissue mill are also part of the scope of supply.
Each line will produce 30,000 TPY tissue, using softwood and hardwood virgin fibers, It will be equipped with a water treatment plant, fiber recovery plant and an advanced double dilution system to feed the headbox. The machines are the OVER CR C20, capable to produce the softest facial tissue, using the DYNAFLO-C headbox on the OVER FORMER CR, capable to "OVER-perform" in the fiber distribution at high consistency and to reduce the softwood needs in the paper.
Each line, equipped with a 4,572 mm Yankee diameter, is conceived to work at a speed of 2,000 mpm with a reel trim of 2,750 mm and includes all the technological solutions for an energy saving tissue production such as high efficiency hood, steam system with economizer.
The delivery of PM1 has been already completed and the delivery of PM2 is in process. OVERMADE's scope of supply includes all necessary services of engineering and erection supervision services as well as assistance at the start-up of both lines.
The project is entirely managed by Mr. Elie Wanna as CEO of ZAIN PAPER INDUSTRY, a manager with vast experience in the tissue field and well known in the market. "We are proud to announce the ZAIN PAPER INDUSTRY TISSUE PARK PROJECT in QATAR – stated Mr. Wanna – an important investment that is located on a plot of land exceeding 123.000 m2, which will be developed in multiple phases. In phase 1, we are already implementing the two OVERMADE lines, one tissue converting plant and one diaper plant. On top of that we are enthusiastic to announce that ZAIN PAPER INDUSTRY has already activated the phase 2 project that includes the installation of two equal tissue machines and production lines. Further already programmed phases will be launched once phase 2 will reach an advanced stage of implementation. Having multiple equal lines, – continued Mr. Wanna - we dedicate each line for a single product. Production changes will be minimised to achieve the highest level of efficiency and productivity, while saving in the spare parts and consumable management. We selected the OVERMADE lines mainly because of well-known quality of the product manufactured by the OVER CR tissue machines, and further because of the lowest proven production consumptions these lines have. For many years OVERMADE has been serving the market with this machine size, which has shown throughout the years to be Overmade's feather in the cap, all over the world including Middle East".
"We are enthusiastic about these new important multiple orders – added Mr. Marocchio, President and CEO of OVERMADE, - especially because they are coming from an experienced and high demanding Tissue producer, who prepares to gain significant market shares. This allows us, in parallel, to increase our presence in a key market, and demonstrate once again OVERMADE's high technology level. OVERMADE's growth path continues with more and more prestigious installations and references, following our motto MADE IN ITALY – MADE IN OVER."


Contact us for more information
Email us with any question or inquiry or call +39 0458281111.
We would be happy to answer your questions or comments.