Following its ambitious growth track, Overmade announces the birth of POWERMADE, a company that will take care of the design, manufacturing, and supply of energy solutions for both tissue and paper mills. The newborn entity is ready to take off and will make Overmade product one of the most complete in the market.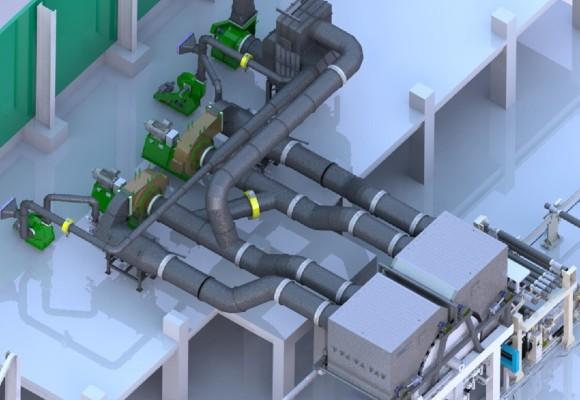 In the international market, Overmade is well-known for engineering, designing and manufacturing complete paper and tissue machines and the high-quality service. Not only the solid company foundation, but also important investments in technologies and the research of ECO and LOGIC solutions made the commercial growth continuous. Such positive trend allowed the firm to expand the trade in the European markets as well as in the extra-European ones, where, in fact, it developed a strong presence also in the American continent, and in the Far and Middle East.
The growth continued even in 2020, when actually Overmade was able to deliver projects, launch new products, purchase modern facilities and establish a new dedicated workshop in full Covid-19 critic time; however, the achievements do not stop here and one is particularly noteworthy in this 2021. 
Mr Stefano Marocchio, President and CEO of the company announced the birth of a new branch called Powermade s.r.l. and affirms: "With the launch of Powermade, we achieved one of our main targets: to design and manufacture our machines from the headbox to the winder, widening our products portfolio with all the energetic and aerothermic systems involved in the tissue and paper production line. Since we made customers tailored solutions our own strength and priority, the increased capability to serve the market with one single platform and from one single supplier, will bring benefits to our customers, following our motto: OVERMADE: MADE in Italy, MADE in OVER".ì
Powermade headquarter is located in Lucca (Italy) and its core business is the supply of energy solutions: from high efficiency hoods and air system for tissue machines to closed hoods and air system for paper machines, from steam and condensate removal system for TMs and PMs to hall and building ventilation system and energy recovery plants, from dust and mist removal systems to the whole portfolio of "runnability systems" such as stabilizing or transfer boxes and air turn, being also able to offer consulting services, such as plant survey and upgrading solutions.
This step came to realization as the cofounders Mr. Lazzini and Mr. Vannucci, who both have already co-worked with the mother-company team in the past, decided to undertake this new adventure in the MADE family: "Our ideas to handle as entrepreneurs the business – affirms Mr. Lazzini – perfectly match with the philosophy of OVERMADE group. The solid know-how in the energy and aerothermic systems already consolidated in OVERMADE can only be increased by our team. Consequently, it will be the natural prosecution of the job we together performed in the past".
Investing in the Powermade project was a choice based on the desire of the Group to ensure that its own quality standard is applied to every part of the final output and develop the technology of the dryer section combining the improvement of production capacity and optimization as well as energy savings that are giving an additional tool to tissue, paper and board producers.
Hence, from this new entry, it is expected an increased competitiveness. When looking for smart energy saving solutions, do not hesitate to ask for a consulting meeting to learn more about ideas provided by Powermade.
Surely, a market more and more environmentally aware will appreciate the deeper technical expertise about topics such as: steam, fuel, electricity & cooling water management process, optimization of energy cost within emissions constraints, improvement in production capability due to increasing drying capacity, optimization of the mill demands for steam and power, optimization of fuel mix options within emissions.
Contact us for more information
Email us with any question or inquiry or call +39 0458281111. We would be happy to answer your questions or comments.